Flexo Kevlar Expandable Braided Cable Sleeve
Kevlar sleeving braided from kevlar fiber,which is 20 times stronger than the steel wire in same diameter.

Kevlar braided sleeving provides extreme strength and durability, yet is lightweight and easy to install, high cut, chemical and abrasion resistance , does not melt, burn or support combustion.
It ideal for extra heavy duty applications in the most extreme environmental conditions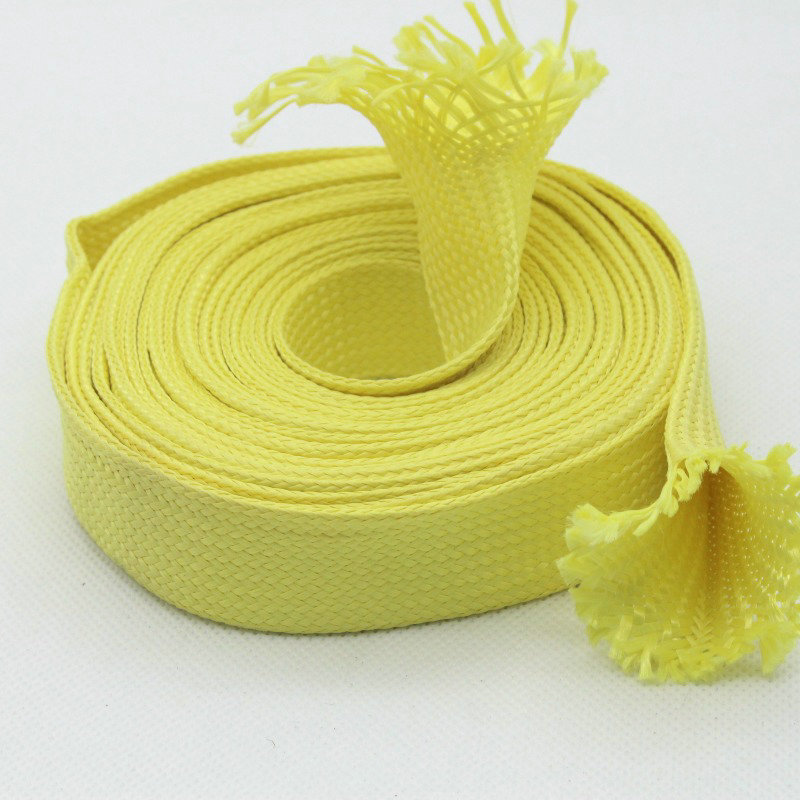 What's special about kevlar cable sleeve?
1.Cuts with kevlar shears
2.Will not melt, burn or support combustion
3.High cut resistance
4.Extra heavy duty
5.Stays soft and pliable
6.Excellent abrasion resistance.
7.Good chemical resistance.
8.Thermally stable.
9.Easy to install.
Physical Properties
| | |
| --- | --- |
| Material | Kevlar fiber |
| Working Temperature | -170℃ to 250℃ |
| Melt Point | No Melt |
| Standard Color | Yellow |
| Certification | ROHS |
| Cutting Tool | Aramid Shears |
Specification
Part No

Nominal Size

(mm)

Expanded Range

(mm)

Packing Length

(m/spool)

Min(I)
Max(O)
MJ-KABS003
3mm
1mm
4mm

500m/spool

MJ-KABS006

6mm
5mm
8mm
300m/spool
MJ-KABS008

8mm
6mm
10mm
250m/spool
MJ-KABS010

10mm
7mm
13mm
250m/spool
MJ-KABS012

12mm
8mm
16mm
200m/spool
MJ-KABS015

15mm
10mm
20mm

200m/spool

MJ-KABS020

20mm
14mm
26mm
150m/spool
MJ-KABS025

25mm
18mm
33mm
150m/spool
MJ-KABS030

30mm
20mm
39mm
100m/spool
MJ-KABS040

40mm
30mm
52mm
100m/spool
MJ-KABS050

50mm
40mm
65mm
100m/spool
Application
Kevlar protective sleeve offers outstanding abrasion resistance for cables and hoses in aerospace and other high-tech applications,especially uses for aerospace, marine, and automotive industry applications