Flexo Nomex Braided Sleeving
Nomex sleeving braided with nomex multifilament fibres. This light weight braided product exhibits an exceptional thermal stability and chemical, solvent and abrasion resistance.
The sleeving retains its integrity at temperatures over 245°C, (the melting point of Nylon) or in presence of Beta, gamma and X-ray radiation or when exposed to high humidity or moisture. The expandable construction allows the sleeving to be easily drawn on long lengths of wiring and cover a wide range of diameters with only a few product sizes.
It has been used for years by race car drivers, fire departments, and oil rig personnel to provide that extra level of protection from the dangers that come with working in and around intense flame and heat. Flexo Nomex braided sleeving will do the same for your wires, hoses, and cables.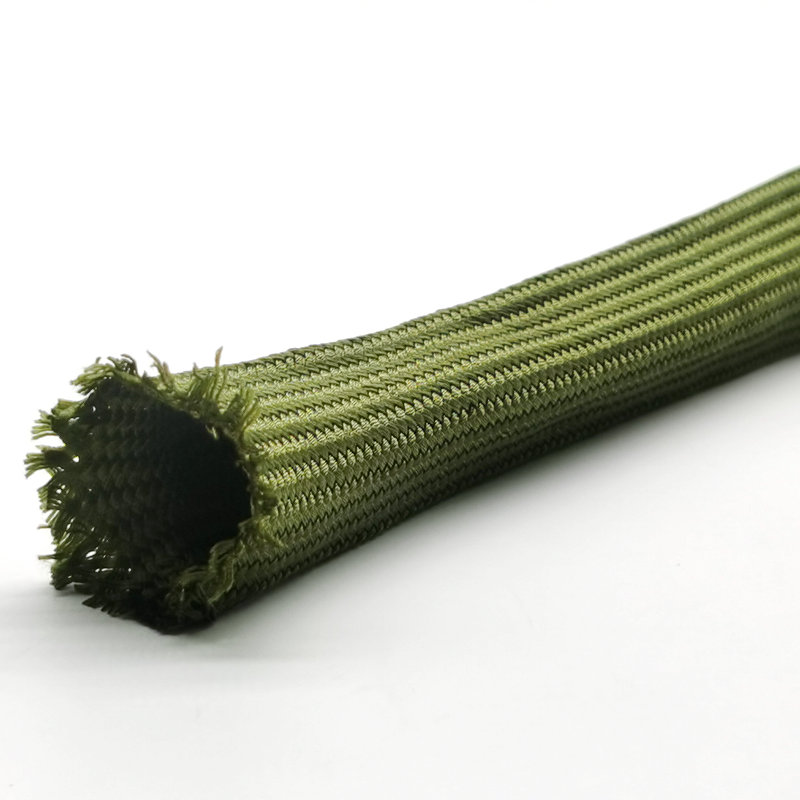 Feactures and benefits
1.Operating temperature range: -196° to 350°C
2.Cuts easily with scissors
3.Abrasion and cut resistant
4.Soft, pliable & strong
5.Resists common chemicals & solvents
6.Expands slightly for easy installation
7.Tight braid for full coverage and protection
8.Melt temperature:1120°C
Physical properties
Material

Nomex (Polyaryl-mide)




Working temperature

-196° to 350°C




Melt point

1120°C




Standard color

Army green,white




Certification

Rohs,halogen free

Cutting tool

Scissor

Tensile

s

trength at

b

reak




Conditioned at 65%. RH: 4.4cN/dtex. Wet: 3.5cN dtex.




Elongation at b

r

eak




Conditioned at 65% RH; 25% Wet; 16%




Initial

m

odulus at 100%

e

longation




Conditioned at 65% RH: 110cN/dtex




Fibre




200 Derniers (220dtex)




Specific g

ravity




1.38




Flammability

UL94-V0




Chemical r

esistance




Mineral acids, organic acids, alkalis, cleaning agents, salt solutions, unaffected by Freon, Gasoline, Jet Fuel, Ethylene Glycol and Methyl Alcohol.



Application
Nomex sleeves used for a wide range of applications such as military, aerospace, race car, fire department to protect the cable and wire from the dangers that come with working in and around intense flame and heat.
Specification
Part No

Size

(mm)

Expansion Range(mm

)

Packing Length

Min.(I

)

Max.(O

)

MJ-NMBS003

3.0

1.0

4.0

500m/spool

MJ-NMBS006




6.0

5.0

8.0

300m/spool

MJ-NMBS008




8.0

6.0

10.0

250m/spool

MJ-NMBS010




10.0

7.0

13.0

200m/spool

MJ-NMBS012




12.0

8.0

16.0

200m/spool

MJ-NMBS015




15.0

10.0

20.0

200m/spool

MJ-NMBS020




20.0

14.0

26.0

150m/spool

MJ-NMBS025




25.0

18.0

33.0

150m/spool

MJ-NMBS030




30.0

20.0

39.0

100m/spool

MJ-NMBS040




40.0

30.0

5

2

.

0

100m/spool

MJ-NMBS0

50




50.0

50.0

65.0

100m/spool