Fireproof Nylon Hydraulic Hose Burst Protective Sleeve
Nylon hydraulic hose sleeve made of nylon multifilament,the tight woven construction sleeve are self-renewing, abrasion-resistant that meets ISO 6945 abrasion standards and also has MSHA IC 171/1 flame resistance approval.
Hose protection sleeve designed to protect hydraulic hoses and provide limited burst and containment protection to your most valuable asset, reduce hose damage caused by abrasion.
What's special about hydraulic hose sleeve ?
1.Explosion proof,anti-corrosion
3.Extremely flexible and durable
4.Superior abrasion resistance
5.MSHA flame resistance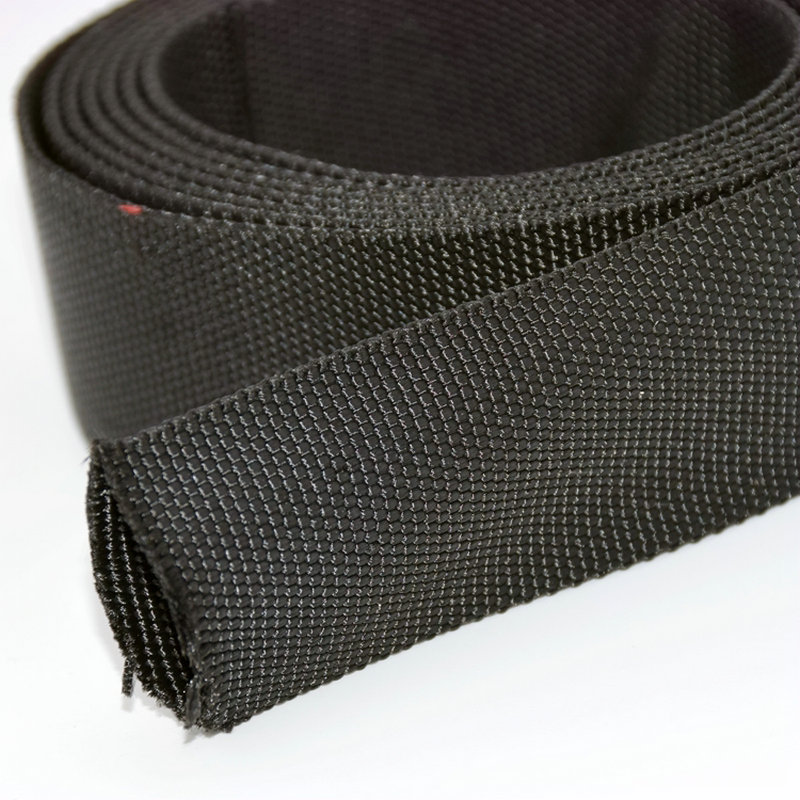 Physical Properties
Material

Nylon multifilament

Working Temperature

-40℃ to 125

℃




Melt Point

220+(-)10℃

Flammability

FMVSS 302,MSHA

Standard Color

Black

Certification

ROHS,MSHA

Cutting Tool

Scissor
Specification
Part No
Nominal Size
Thickness
Standard Color
Packing Length
Flat Width(mm)
Inner Dia(mm)
(mm)
(m/spool)
MJ-NHPS017
30±2mm
17mm
0.8mm or 1.2mm
Black
100m/spool
MJ-NHPS020
34±2mm
20mm
100m/spool
MJ-NHPS025
42±2mm
25mm
100m/spool
MJ-NHPS031
51±2mm
31mm
50m/spool
MJ-NHPS036
59±2mm
36mm
50m/spool
MJ-NHPS040
65±2mm
40mm
50m/spool
MJ-NHPS044
72±2mm
44mm
50m/spool
MJ-NHPS047
76±2mm
47mm
50m/spool
MJ-NHPS050
81±2mm
50mm
50m/spool
MJ-NHPS055
89±2mm
55mm
50m/spool
MJ-NHPS060
97±2mm
60mm
50m/spool
MJ-NHPS066
106±2mm
66mm
50m/spool
MJ-NHPS073
117±2mm
73mm
50m/spool
MJ-NHPS078
125±2mm
78mm
50m/spool
MJ-NHPS085
136±2mm
85mm
50m/spool
MJ-NHPS093
149±2mm
93mm
50m/spool
MJ-NHPS099
156±2mm
99mm
50m/spool
MJ-NHPS106
169±2mm
106mm
50m/spool
MJ-NHPS112
178±2mm
112mm
50m/spool
Application
Nylon protective sleeve ideal for use as a protective covering on hydraulic and industrial hose,pipe,
Protects hose from abrasion and degradation
Offers limited protection from the effects of hose bursting and pinhole occurrences
Allows bundling of hose, cable, rope, chain, wire, etc.