Flame Retardant Screw Din Rail Ground Erath Terminal Block Connector
The grounding terminal blocks made from engineering flame retardants nylon PA66 with alloy brass screw metal,provide an easy-to-identify, convenient, neatly organized grounding bus that is mounted on the DIN rail.The protective terminal blocks has strong clamps to ensure tight fixation on DIN rails to achieve the PE function.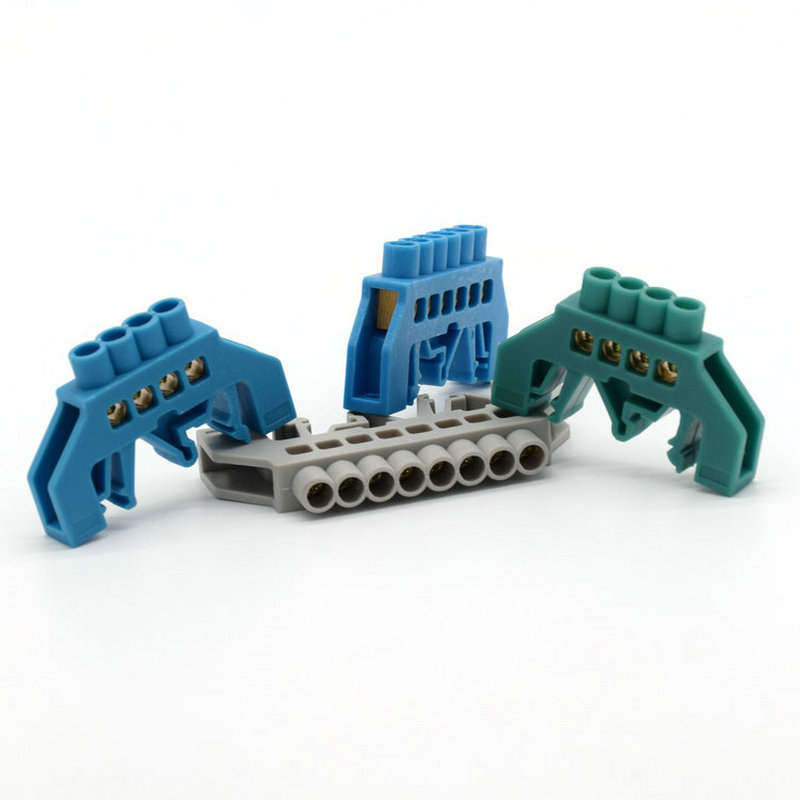 What's the special about our din rail terminal block connector
1.Flame retardant
2.Suitable for broad range of cross-section and types of wires.
3.Wires can be connected without any special preparation.
4.Easy for the extension and safe connection.
5.An excellent vibration proof protection against loosening.
6.High reliability and maintenance free.
7.Very low contact resistance.
8.Easy mounting and dismounting from the terminal rail.
Physical Properties
| | |
| --- | --- |
| Holder Material | PA66 |
| Conductor Material | Brass |
| Screw Material | Steel zinc plated |
| Conductor Size | 1~5AWG |
| Brass W*H | 6*9,8*12 |
| Screw Size | M4.0~M5.0 |
| Working Temperature | -40℃~150℃ |
| Melt Point | 256+(-)10℃ |
| Flammability | UL94V2 |
| Standard Color | Blue,Green,Light Grey |
| Din Rail Size | 35mm |
Specification
Part No

Brass Size

W*H(mm)

Holes
L
L1
L2
H
W
Φ

Screw Size

Packing

(pcs/ctn)

(mm)

MJ-SP033-01
6*9
4
57.5
49.0
34.0
34.5
10.5
5.0
M4.0
1000
MJ-SP033-02
6*9
6
57.5
49.0
46.7
34.5
10.5
5.0
M4.0

1000
MJ-SP033-03
6*9
8
78.5
69.5
60.0
34.5
10.5
5.0
M4.0

800
MJ-SP033-04
6*9
10
89.0
78.0
72.8
34.5
10.5
5.0
M4.0

600
MJ-SP033-05
6*9
12
102.0
91.5
85.7
34.5
10.5
5.0
M4.0

500
MJ-SP033-06
8*12

4
77.5
66.0
40.6
38.6
12.6
7.0
M5.0

500

MJ-SP033-07
8*12
6
77.5
66.0
57.3
38.6
12.6
7.0
M5.0

500

MJ-SP033-08
8*12

8
94.3
83.0
74.4
38.6
12.6
7.0
M5.0

500

MJ-SP033-09
8*12

10
111.0
100.0
91.0
38.6
12.6
7.0
M5.0

500

MJ-SP033-10
8*12

12
128.4
117.5
108.6
38.6
12.6
7.0
M5.0

500

MJ-SP033-11
8*12

14
145.8
134.0
135.6
38.6
12.6
7.0
M5.0

200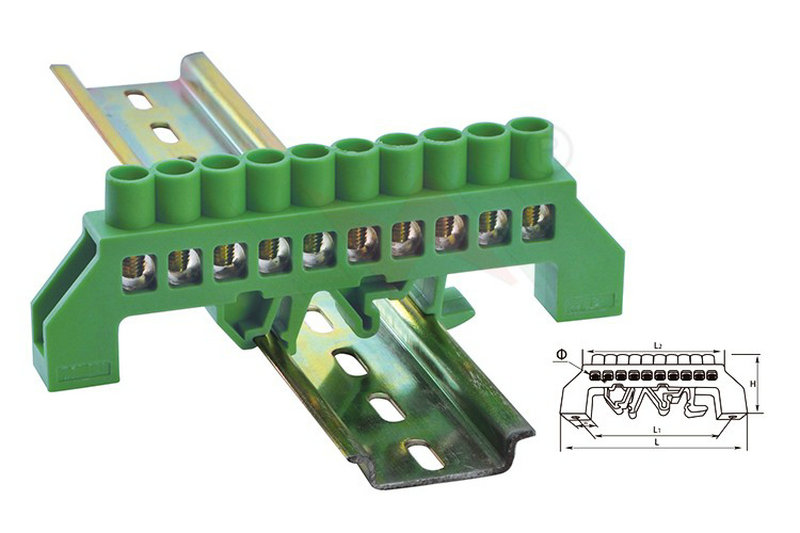 Application
Din Rail terminal blocks used for wires connecting of home appliances, electronic circuits, machines, etc