175℃ Pvdf Heat Shrinkable Tube
PVDF heat shrink tubing made of special irradiation cross-linked medical-grade polyvinylidene fluoride,with outstanding chemical and solvent resistance and high-temperature performance.
PVDF shrink tubing are semi-rigid, abrasion-resistant, non-flammable Fitcotube® heat-shrink tubing for reliable insulation and excellent mechanical protection of wires and components. Also suitable for high ambient temperatures and protection of soldered and crimped connections.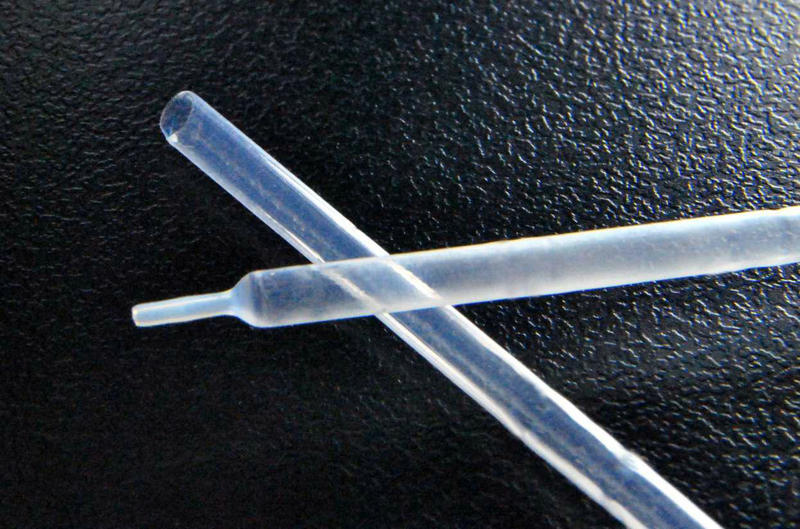 Physical properties
Material

Irradiated cross-linked semi-rigid flame-retardant PVDF

Shrink Ratio

2:1

Working temperature

-55℃~ 175℃




Minimum shrink temperature




155℃




Minimum fully recovery temperature




175℃




Specific Gravity




≤1.80




Radial Shrinking Ratio




≥50%




Longitudinal Shrinking Ratio




≤5%




Tensile Strength




≥30 Mpa




Elongation Ratio




≥150%




Cold Bend(-55℃,4h)




No Cracking




Aging in circulating-air oven




(225±1.0)℃,7days




Elongation ratio(after aging)




≥75%




Volume resistivity(Ω·cm)




≥10

14




Dielectric strength(

kV/mm)




≥15.7




Concentricity




≥70%




Flammability Rating




VW-1

Standard Color

Clear

Colors

Available

Certificated

ROHS

Application
1.Insulation and protection of thermistors, resistors and capacitors
2.Protection for wire and devices which are used under high
temperature or exposed to chemicals and oils
3.Mechanical protection for metal wire
4.Fixing and protection of cable markers
5.Insulation and protection of thermistors, resistors and capacitors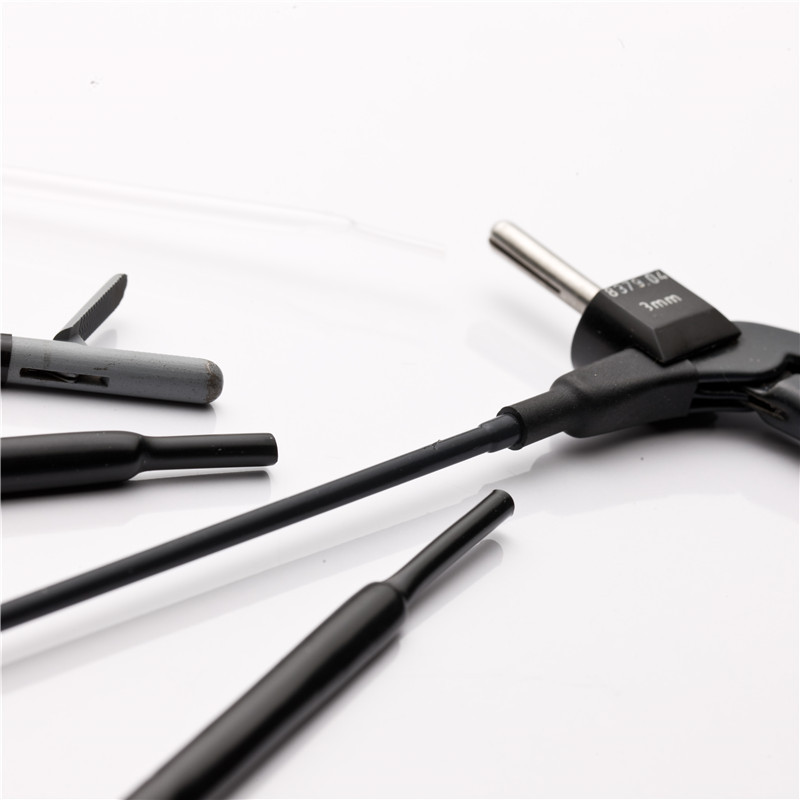 Colors
Black, Red, Green, Blue, White, Clear
Specification
Part No
Size(mm)
As Superlied(mm)
After Recovered(mm)
Innder Dia(D)
Thickness(T)
Inner Dia(d)
Thickness(t)

MJ-HST-PVDF1.2

Φ1.2




1.4

+

0.2/-0.1

0.12

±0.05

≤0.6




0.25

±0.05

MJ-HST-PVDF1.6




Φ1.6




1.8

+

0.2/-0.1




0.12

±0.05

≤0.8




0.25

±0.05

MJ-HST-PVDF2.4




Φ2.4




2.7

+

0.

3

/-0.1




0.13

±0.05

≤1.2




0.25

±0.05

MJ-HST-PVDF

3.2




Φ3.2




3.5

+

0.3

/-0.1




0.13

±0.05

≤1.6




0.25

±0.05

MJ-HST-PVDF3.8




Φ3.8




4.0

+

0

.3

/-0.1




0.13

±0.05

≤1.9




0.25

±0.05

MJ-HST-PVDF4.8




Φ4.8




5.1

+

0.

3

/-0.1




0.13

±0.05

≤2.4




0.25

±0.05

MJ-HST-PVDF6.4




Φ6.4




6.7

+

0.3/-0.1




0.16

±0.05

≤3.2




0.33

±0.05

MJ-HST-PVDF9.5




Φ9.5




9.7

+

0.3/-0.1




0.16

±0.05

≤4.8




0.33

±0.05

MJ-HST-PVDF12.7




Φ12.7




12.8

+

0.3/-0.1




0.16

±0.05

≤6.4




0.33

±0.05

MJ-HST-PVDF19.1




Φ19.1




19.9

+

0.

5

/-0.1




0.22

±0.05

≤9.5




0.43

±0.08

MJ-HST-PVDF25.4




Φ25.4




25.7

+

0.

5

/-0.1




0.22

±0.05

≤12.7




0.43

±0.08