Silicone Rubber Heat Shrink Tubing
Silicone rubber heat shrink tubing have superior heat and cold resistance, flexibility, and electrical insulative properties. They typically maintain their performance characteristics over a wide temperature range, from -40°C to +200°C.
It with an excellent balance of physical and electrical properties. The tubing resists extreme heat shock and exhibits good thermal insulation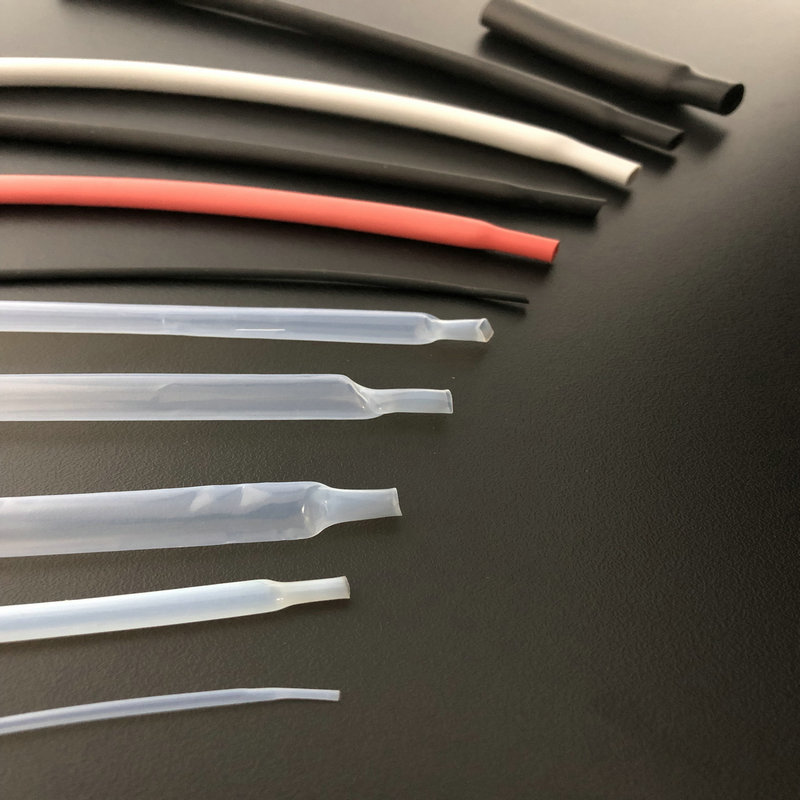 What's special about silicone heat shrink?
1.Cross-linked Silicone
2.Highly flame retardant
3.Thermal insulation & heat shock protection
4.High & low temperature resistance
5.Excellent flexibility
6.Shrink ratio 1.7:1
7.Voltage class: 1000 V
8.Acid and alkali resistance, corona resistance, mildew resistance

Physical Properties
Material

Silicone rubber

Shrink Ratio

1.7:1

Working Temperature

-40℃ to 200℃




Start Shrink Temperature




90℃




Minimum Complete Shrink Temperature




170

℃

Longitudinal Shrinkage




5%




Flammability




VW-1

Standard Color

Black

Colored

Available

Certification

UL,ROHS,Reach,Halogen free

Shrinking Tool

Hot Gun,Oven

Cutting Tool

Scissor
Specification
Part No
Unshrink Size(mm)
Shrink Ratio
After Shrunk Size(mm)

Packing Length
Dia(D)
Thickness(T)
Dia(d)
Thickness(t)
MJ-HST-S-1.0
1.0
0.5±0.1
1.7:1
≦0.6
1.1±0.15
200m/spool
MJ-HST-S-2.0
2.0
0.5±0.1

1.7:1
≦1.2
1.1±0.15
200m/spool
MJ-HST-S-3.0
3.0
0.5±0.1
1.7:1
≦1.8
1.1±0.15
100m/spool
MJ-HST-S-4.0
4.0
0.5±0.1
1.7:1
≦2.5
1.1±0.15
100m/spool
MJ-HST-S-5.0
5.0
0.5±0.1
1.7:1
≦3.0
1.1±0.15
100m/spool
MJ-HST-S-6.0
6.0
0.5±0.1
1.7:1
≦3.8
1.1±0.15
100m/spool
MJ-HST-S-7.0
7.0
0.5±0.1
1.7:1
≦4.0
1.1±0.15
100m/spool
MJ-HST-S-8.0
8.0
0.5±0.1
1.7:1
≦4.8
1.1±0.15
50m/spool
MJ-HST-S-9.0
9.0
0.5±0.1
1.7:1
≦5.0
1.1±0.15
50m/spool
MJ-HST-S-10.0
10.0
1.0±0.1
1.7:1
≦6.5
2.5±0.15
50m/spool
MJ-HST-S-12.0
12.0
1.0±0.1
1.7:1
≦7.0
2.5±0.15
50m/spool
MJ-HST-S-15.0
15.0
1.0±0.1
1.7:1
≦9.0
2.5±0.15
50m/spool
MJ-HST-S-20.0
20.0
1.0±0.1
1.7:1
≦13.0
2.5±0.15
50m/spool
MJ-HST-S-25.0
25.0
1.0±0.1
1.7:1
≦15.0
2.5±0.15
25m/spool
MJ-HST-S-30.0
30.0
1.0±0.1
1.7:1
≦18.0
2.5±0.15
25m/spool
MJ-HST-S-35.0
35.0
1.0±0.1
1.7:1
≦20.0
2.5±0.15
25m/spool
MJ-HST-S-40.0
40.0
1.0±0.1
1.7:1

≦25.0
2.5±0.15
25m/spool
*********












Application
Silicone heat shrinkable tubing widely used in electronic components, instrumentation, lighting, electrical appliances, petroleum metallurgy and other industries,
1.Suitable for medical apparatus that require sterillization treatment
2.Heating element installation and electrical wiring terminal insulation
3.Fiber optic bundle sheathing
4.Aviation and rocketry support cable protection