Polyethylene Spiral Cable Zip Up Management Wrap
Zip up spiral wrap made of 100% new polyethylene material, flexible,resuable, spiral design offer perfect solution to protect your cable, cords and wires from abrasion, damage, wear and tear. You can even use it for managing multiple cables such as wire harnesses to organize the wire mess.
Spiral cable wrap can easily be cut off to the length you need;,Ideal for home,cinema, office cable organzier, keep neat and all in orders.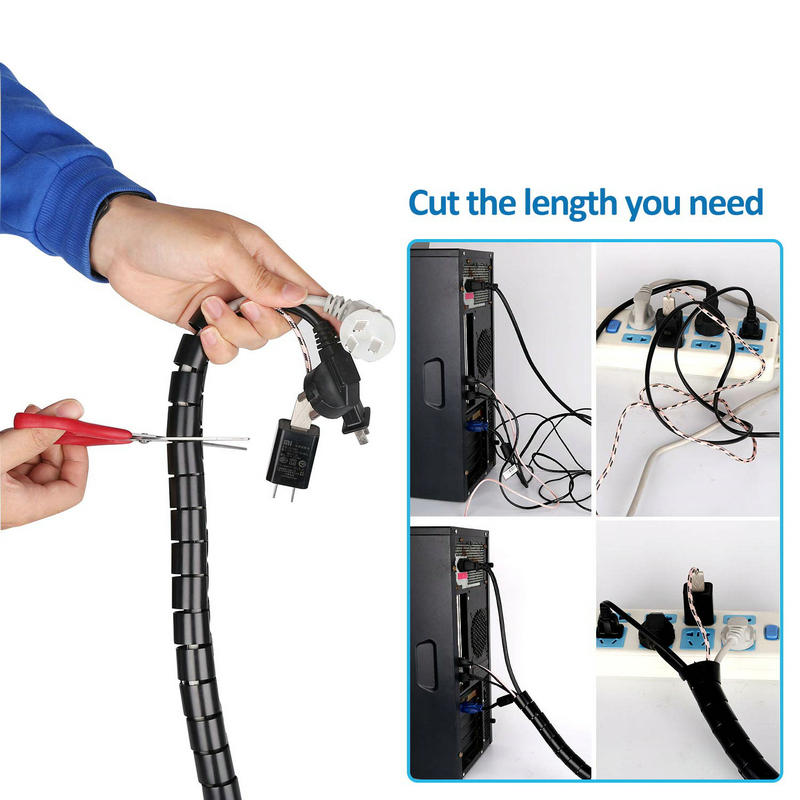 What's special about spiral wire wrap?
1.Easy to install with the thread guide.
2.Flexible, reusable, spiral design, polyethylene material.
3.Designed to allow breakouts of single/multiple wires.
4.Great for harnessing multiple cables into a single manageable bundle.
5.Can protect cables from possible damages, prevent electric leakage.
6.Various Size available



Physical Properties
Material

Polyethylene




Working Temperature

-30

°C

~100°C




Withstand voltage




28.9MPa




Size

8mm,10mm,16mm,22mm,28,32mm,40mm

Standard Color

Black,Grey,White

Flame Retardant

No

Certification

ROHS

Cutting Tool

Scissor
Specification
Part No

Nominal Size

OD(mm)

Thickness

(mm)

Max Bundle Dia

(mm)

Packing Length

(m/spool)

MJ-ZPCW008
8mm
1.0~1.5mm
4.0~8.0mm
50m/spool
MJ-ZPCW010
10mm
1.0~1.5mm

5.0~10.0mm
50m/spool

MJ-ZPCW016
16mm
1.0~1.5mm

8.0~16.0mm
50m/spool

MJ-ZPCW022
22mm
1.0~1.5mm
12.0~22.0mm
50m/spool
MJ-ZPCW028
28mm
1.0~1.5mm

16.0~28.0mm
50m/spool
MJ-ZPCW032
32mm
1.0~1.5mm

20.0~32.0mm
50m/spool
MJ-ZPCW040
40mm
1.0~1.5mm

25.0~42.0mm
50m/spool
Application
Spiral cable management wrap created easy, fast and effective cable management for your cables and wires,offer you a clean,neat and tidy surrounding,extend your cable life and profetct cable from damage.
Spiral wire wrap ideal for managing computer cable,power cords,TV wires,USB cords,car cable,audio cables,or other mechanical equipment.